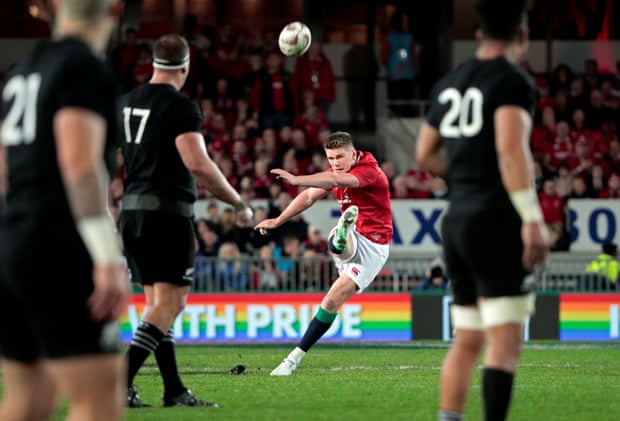 (Owen Farrell goal kicking)
Series tied 1-1 (third's test score: 15-15).
What a game, the Lions put on a defensive effort. I don't think any other country or countries could have withstood the All Black onslaughts, so good and heavy was the defense that I have never seen the All Blacks drop so much ball. At one stage the All Blacks had 78% possession and whilst the Lions never looked like scoring a try they continually repelled the All Blacks.
I don't think the All Blacks tight 5 have received enough praise, they virtually dominated the scrum and negated the Lions platform over the advantage line, something they could do in the 2nd test although with a man advantage. I was slightly perplexed with some of the penalties given in the latter stages of the game by Poite to the Lions that evened up the possession somewhat. Warburton was fantastic at breakdown and stole or slowed down so much ball, with Johnathon Davis a colossus in the mid field.
The question asked earlier in the tour who of the Lions players would make the All Blacks team, currently I would say Davis and Warburton, whilst Itoje is the flavour of the month in the press, I still don't believe he could oust Retallic and Whitlock. I was skeptical with Hansen calling in Laumape and Barrett for their first run on debuts however they were both fantastic, I am not saying Smith and Crotty could have done better however we will never know. It was also good to see the fridge running over people as is his want, with himself and B Barrett making incredible running metres along with the Lions Williams.
Both Hansen and Gatland showed their collective coaching nous and in the end finished with one apiece. I would however be fearful if I was teams in the upcoming Rugby Championships as they now can see what they are up against in this new look All Black team. The Lions can go home with the knowledge they have dented the mighty All Blacks in way not seen since 1971 and all players have finished way ahead in so far as many pundits had given them credit prior to the tests.
I do believe the NZers are in long-term decline. You can feel a drop-off in self-belief after McCaw's departure. They are jittery in possession when subjected to sustained pressure against sides who are fit enough (i.e., most sides now) to make front-on tackles and scramble defend for 80 minutes. The captain Read has no instinct for bargaining with referees. Carter used to convert the goal kicks that mattered. Your current kicker (as well as the other candidates) is flaky to say the least. They are no longer able to get away with head shots on pesky opponents (viz., Williams' and Kaino's sending-offs), something they relied on during the McCaw era as a way of subduing opposition. You can tell also that Hansen has been in the job too long, is too cosy with his favorite players, and cannot see what is going on objectively any more. Moreover, I sensed that having beaten the Lions in 2005, he wasn't desperate enough to do the job this time. Instead, he has been spouting his naff homilies about how rugby is just a game and we'll all have a chuckle and a beer over it later. That is a loser's mentality.
A draw's a fair outcome of the series, a series dominated by the All Blacks and showed by scoring tries and not allowing the Lions to score a try in the last game, however the style of play by the Lions was the conduit to force the All Blacks to play different styles, styles they have not had to play for a long time, so end in the end it was fitting that a draw is what the game amounted to. A cricket draw is often a slow buildup of mutual respect in terms of skill and mental fortitude Football, basketball, tennis and others are interesting peaks on a cardiogram that soon enough return to a spell in bed and some warming soup. Rugby though, played across a series like this, is something else. The staggering physicality, the mental pressure, the ballet of contradicting genetic attributes and the absolute inherent base respect, conjour a unique cauldron that cannot be replicated anywhere else. Fair play to both teams; they created history by winning nothing. They made more rugby fans proud than if either side had dominated. They walked a path that even those of us who have played at any level, have never walked.
I think rugby is the only sport in existence where a draw can elicit the feeling that this series did. It's just an unmissable sporting spectacle. Bit like the Ryder cup, it's not about the money or fame. They're playing for the love of the game and it's great to see. From my armchair, it seems that this series breathed life into the spirit of rugby. Both sides honoured their shirts on and off the pitch.