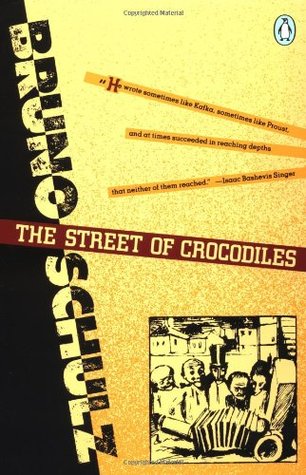 (Original Review, 1981-05-30)
Why do I read? To learn, to experience worlds, emotions, interactions that I don't experience in my reality, to think, to be, to become.
If not for Huxley - recommended by an English teacher at school - I'd have remained a working class racist, sexist homophobe, would never have
smoked haxixe
, gone on to study philosophy, met my children's mother, have had wonderful kids or stepped out of a culture of impoverished imagination.
I might have been 'a happy pig' rather than an "unhappy philosopher," (to paraphrase Plato) it's true, but it's been a richer life for it. Reading still throws utterly unexpected poetry and beauty at me, as with some of the lines from 'Street of Crocodiles' by Bruno Schulz, which is a wonderful if not easy read. It really is risible to see a bunch of non-Polish speakers bemoaning a translation because, well, it makes for difficult English! Well, trying reading Schulz in Polish as that's same friend who speaks Polish told me - it ain't easy, either, for a Polish speaker! His prose is frequently florid, too much, heavy, creaking but then bursts into levity and flight, that is the joy and surprise of his work - transformation, not only within the scenes, but within the writing itself (the same can be applied to Saramago…).
And I also despair of critics and readers (and this happens in book reviews every week) who comment on the quality of a translation without having a working knowledge of both languages. The problem is that when reviewing work in translation it's considered polite to comment on the translator, and if you've enjoyed the book it naturally follows that you'll want to compliment the translator on the job they've done. It's a bit of a nonsense, but it's usually born of good intentions as opposed to wanting to make people believe you spend your spare time reading Chekhov and Proust in the original. [2018 EDIT: That's why I only do it when I've read the original which invariably only happens when the language to and from involves Portuguese, English, Spanish or German.]
I read because it's in the blood. There is no greater love (or as a friend of mine usually says: "To avoid eye contact with that creepy guy on the subway.").