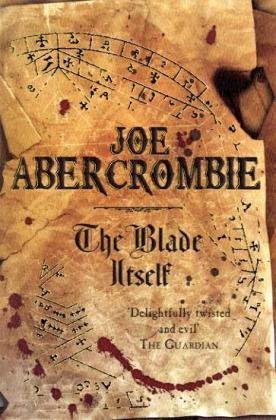 I "discovered" Abercrombie in 2012 when I was actually looking for some fantasy novels that "weren't Dragonlance-level shit". Back in 2012 I started off by reading "The Heroes" first. Only in 2013 I got to reading the First Law from the beginning.
Abercrombie does not sugar-coat his narrative. That's for sure. That's the first indication you're not reading your running-of-the-mill fantasy: it's disturbing because it skews closer to real life than we are used to or comfortable with fantasy-wise. Protagonists fail, start things but don't finish them, have their plans changed in mid-stride and generally push through as if they were making it up as the narrative progresses. While reading "The Blade Itself" I kept expecting conventional fantasy storytelling to assert itself and bring the characters back around to the "right" path, despite evidence to the contrary. I'm not that well versed in fantasy lore, but I think this first novel in Abercrombie's fantasy milieu sets up a precedent for an ending that just isn't what you expect, but I still kept waiting for that tide to turn back and give me a the usual happy ending cropping up in a lot of fantasy nowadays. What I found most unsettling is that there IS a happy ending – it's just the last person in the entire book you'd expect gets everything he wants. It was one of those endings, and one of those books, that sits with you for a very long time.
A lot of the fantasy I still read tends to have 'evil' as an abstract, exterior force and 'virtue' as somehow innate and hereditary. There is room for moral complexity in fantasy but a lot of people make good money without bothering, which dilutes the impact of the better stuff (as does the tendency of critics and publishers to pretend that anything not thud'n'blunder broadsword-opera is magic realism or some kind of new genre, and to misprise anything that looks naturalistic until a particular point as 'going off the rails' or 'getting confused'.)
There are probably simple reasons too, but shrugging and saying 'the public like simple' rather weakens your case that there's more to fantasy than that. I reserve the right not to only like what a lot of other people like, but more to the point I think other people might like the less, um, generic work if it were more widely available. If I wanted to make a point about the processes of 'othering' in the rather linear world-view of the tabloids, I'd say that many fantasy works examine this process either directly or as a side-effect of the way we read fantasy. "Simply 'Good vs Evil' stories" aren't as satisfying. I've read all that before. Identifying evil is a tricky enterprise. The smoker and the loud biker were --- and maybe in some degenerate places and times still are --- considered good, by way of "cool", while in reality they are evil polluters. It's all down to how much bollocks a society can live by before they wake up and smell the coffee of reason.
Most fantasy these days (i.e. the last 20 or so years) has shied away from the cliché of evil overlords and his countless, faceless minions. In fact, even at its most prevalent form, it was only the most visible form of "evil," rather than the most common. I might even go so far as to say that an awful lot of fantasy focused on the snark between the main characters rather than the "good vs evil" thing - hell, the thing everyone remembers from the endless "Dragonlance" novels is the parasitic relationship between Raistlin and his twin brother Caramon, just as a f'r'instance. But to get back to the main thrust of this skewed-sort-of-review, in K. J. Parker's novels the heroes are quite often men and women who would be regarded as evil in other circumstances and much of his appeal as a writer is in the moral quandary this creates. I would point everyone reading these words in the direction of his excellent and grimdark-before-it-was-cool "
Academic Exercises
" and "
The Folding Knife
".
NB: I've been told repeatedly to read Brent Weeks which I never did
(I'm looking at you Bookstooge...)
. It's time to rectify this. Weeks is probably the only major fantasy writer I haven't read yet.