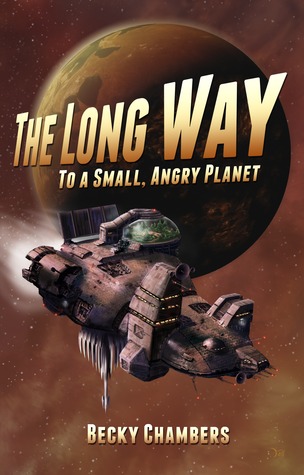 "Lovers are fun, but kind of stupid, too. They say stupid things to each other and they ignore all their friends because they're too busy staring, and they get jealous, and they have fights over dumb shit like who did the dishes last or why they can't fold their fucking socks, and maybe the sex gets bad, or maybe they stop finding each other interesting, and then somebody bangs someone else, and everyone cries, and they see each other years later, and that person you once shared everything with is a total stranger you don't even want to be around because it's awkward."
In "The Long Way to a Small, Angry Planet" by Becky Chambers
(No, I didn't get the quote wrong; it's really in the book ipsis verbis)
Should all speculative fiction be written in a fantastical, hyper-imagined future where everything is new and shiny and different?
Having a rich panoply of characters make 'walk on' appearances engages the reader and helps them to develop a richness, texture and depth to a work. The reader can determine whether or not one of these 'extras' connects to the story-line elsewhere - and an impressionistic sketch of these characters and their activities actually requires that the reader puts in some effort in constructing the world in which the characters operate. Roger Zelazny used this device quite well, and I enjoyed it: discontinuities were everywhere, and hints and ephemera enhanced the story. I didn't want to see everything in a well-lit room. I tried Larkin when I was twelve, then when I was sixteen (yay for required reading as part of my British Council English education.) Much preferred Tennyson and then I was in my late twenties. Each and every time it was like Dorothy Parker was sitting reading over my shoulder: "this isn't a poet to be read lightly, he should be hurled with great force". No wonder my school loved him - his poetry could suck the life out of a lemon. Prior to permitting an external creative agent (an author) to characterize the parameters of a conceptual context (a story), the human imagination, through its own self-awareness, provides the experiential appreciation of limitlessness. Stories feed the appetite of those who elect not to revel in the limitlessness that defines human imagination. It is true that among the authors there are those who excel at the artistry of storytelling. But in the end confining oneself to the structured context established by another individual's imagination is never more than a trivial pursuit. And yet we're flooded with prancing, mincing, romance stereotypes ala Gail Carriger's novels. The only difference here is that they take place in space.
Where precisely are the limitations of human imagination? Where is the edge of my mind; the edge of consciousness; the edge of creativity?
Most writers and artist who are any good (and some that are not) do feel that they are in some ways experimenting (testing out
ideas), and
when we read or see or hear works of art and imagination that impress us we do, often, have a sense of having learned something about the world - our understanding/perception of the world has been enlarged or clarified in some way.
Bottom-line: If I want a Cozy Space Opera depicting the spectrum of relationships depicted on spaceship, from romantic partners to casual lovers to loyal companions to people who put up with each other because they have to…. and every kind of friendship in between, I'll watch a well-lit "Neighbours" room on TV where everything must be taken at face value.